The 2021 Subaru Love Promise Customer and Community Commitment Award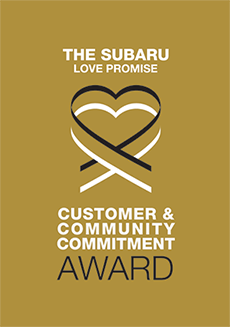 We've been nationally recognized for our dedication to our customers, our community, and the Subaru Love Promise.
We're honored to receive the 2021 Subaru Love Promise Customer and Community Commitment Award. This award nationally recognizes elite Subaru retailers who provide an exceptional customer experience at every interaction with Subaru. These retailers have also demonstrated an outstanding commitment to supporting passions and causes in their local communities in important areas such as the environment, community, health, education, and pets.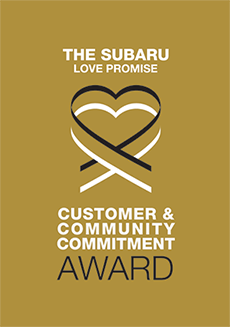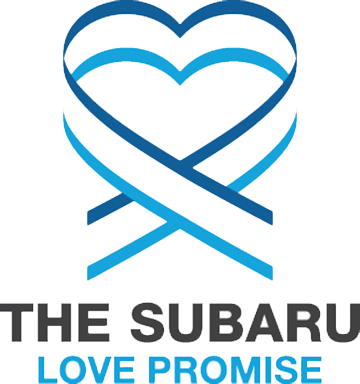 What is the Subaru Love Promise?
Subaru and our retailers believe in making the world a better place and the Subaru Love Promise is our vision of respecting all people. This is our commitment to show love and respect to our customers and to work to make a positive impact in the world.
How is Sendell Subaru dedicated locally to the Love Promise?
Our Love Promise can be seen in various partnerships with local charities and non-profits. We're grateful for the opportunity, not only to be a part of our community, but to serve it as well.
Animal Friends of Westmoreland, Wayward Whiskers
Westmoreland Parks and Recreation
Mountain View Elementary School, Hempfield Middle School
CASA of Westmoreland, The United Way of Southwestern PA, Adelphoi Village, The Blackburn Center
UPMC Hillman Cancer Center at Arnold Palmer Pavilion, Leukemia & Lymphoma Society
Love Promise Stories from Sendell Subaru
Subaru and Sendell Subaru believe in making a positive impact on the communities in which we live and work. We uphold that belief through our Love Promise Community Commitment. Every month, we select inspiring stories from customers and partners from around our area who strive to support our collective commitment and feature them here
Greater Latrobe Parks & Recreation - Dawn V
We are INCREDIBLY thankful for the support we receive from Sendell Subaru! Their commitment to our community is endless. Not only do the folks at Sendell support us through our Race Sponsorship program, they participate in the races as well. They are a part of our Greater Latrobe Parks & Recreation family. As a non profit in these trying times it is a comfort to know we can depend on the fine folks at Sendell. Our annual Turkey Trot 5K is a cherished tradition in Latrobe, and our biggest fundraiser of the year. Families and friends from all over the country converge on our town to run or walk in the event, and eat turkey with their families after the race. Nearly 1200 people register- with a wide range of ages and abilities participating. It is always a super fun event! Again, we are so thankful for the support we receive from the Sendell team!
---
Sendell Motors Helps Kids Attend Summer Camp - Debby K
The Greensburg YMCA would like to convey our sincere gratitude to Sendell Motors for making it possible for local children to attend summer day camp at the Y. During the summer months, child care is an essential need for many families, but for children living in disadvantaged households, it can be a struggle to afford. Our child care programs seek to nurture the potential of all children and youth, regardless of income or background, but we must rely on community support to make this possible. When we reached out to Chris Mohler-King, she graciously agreed to help. With generous sponsors like Sendell Motors, we were able to provide financial assistance for Summer Camp to local families, allowing these children the opportunity to learn new skills, develop new interests and build lasting friendships. This year, we were thrilled to welcome back 151 campers. Sendell Motors helped make this possible, and we appreciate their commitment to improving the lives of children. Thank you for making summer great for all!
---
Subaru Loves Learning- Dunbar Elementary School - chris k
We partnered with a local school, Dunbar Elementary School to provide funding and school supplies. The kids were so appreciative and wrote thank you notes.
---
SummerSounds returns ... thanks to Sendell Subaru! - Gene J
After a year of hiding from COVID, the SummerSounds crew decided to produce a later and shortened season of concerts. We weren't sure we could pull it off when we reached our to our friends at Sendell Subaru, but they immediately said "Of course we'll be a part of SummerSounds '21!" So, on behalf of the 8,125 folks that have come to just our first 5 shows, we say "Thank you Sendell." Subaru means it when they say they want to make the world a better place and we can feel the love!
---
Sendell Motors Help to Change A Child's Story. - Rick O
CASA of Westmoreland wishes to extend our profound appreciation to Sendell Motors for their long-term and continued support of our mission. Their commitment as a CASA Multi-Event Sponsor has made a real difference in our efforts to provide a voice for abused and neglected children in Westmoreland County This past month Sendell Suburu presented CASA of Westmoreland with an amazing donation of $10,000 - a truly remarkable and generous gift that will positively impact the lives and futures of so many deserving children in our community. We wish to express our deepest gratitude to Chris Mohler-King and her wonderful team at Sendell Motors for their dedication and heartfelt efforts to help Change A Child's Story. And thank you for making CASA of Westmoreland your hometown charity. ​​
---
Sendell Sponsors Summer Meal Program - Lauren H
The $10,000 donation made to the Westmoreland County Food Bank is instrumental to the success of the organization's summer meal program for children. While summer is a fun and exciting time for families, the summer months can be a challenge for families whose children receive free meals at school during the school year. Many families are still recovering from the economic effects of the pandemic and worrying about how they will feed their children when school meals are not readily available can add additional stress and hardship. The Westmoreland County Food Bank hosts a Summer Meal program at sites across the county for 8 weeks during the summer to ensure that all children have enough to eat. Thanks to the generous donation from Sendell Subaru, less children will go to bed hungry this summer. Sendell Subaru will sponsor the expenses of two meals a day for 40 children, 5 days a week, at a Greensburg summer program location. Sendell Subaru's donation demonstrates their commitment to the community, to the Westmoreland County Food Bank's mission, and to the health and development of our youngest community members. The Westmoreland County Food Bank greatly appreciates this support and partnership. Together we can ensure that all children have enough to eat, grow, and thrive.
---
Sendell Changes Local Children's Stories! - Rick O
From all of us at CASA of Westmoreland, we wish to express our gratitude to our wonderful friends at Sendell Motors for their long-term support of our mission and commitment to helping give a voice to abused and neglected children here in Westmoreland County. Sendell Motors has been an amazing partner, and their generosity and giving spirit have consistently made a difference in the lives of deserving children who need our help. This past year in association with their Share The Love event, Sendell Subaru raised and presented CASA of Westmoreland with an incredible donation of $19,000! Considering the challenges we are facing during this pandemic year, the magnitude of their contribution is truly remarkable. This gift will now go to positively impacting the lives of over a dozen children currently in foster care in our community. CASA wishes to express its deep and profound appreciation to Chris Mohler-King and all the charitable efforts of her thoughtful, dedicated staff at Sendell Motors. Thank you for making CASA of Westmoreland your hometown charity.
---
Sendell Subaru Walks the Walk! - Joelyn A
Blackburn Center's signature event, Walk a Mile in Her Shoes, takes place each April in Greensburg. Over a thousand participants from Westmoreland County and beyond come together to support Blackburn Center's mission to end domestic and sexual violence, and to raise awareness about these issues. Some wear high heels, while others prefer sneakers. Some carry signs, and others walk without signs. One thing they all have in common is a desire to speak out against gender-based violence. Since 2015, Sendell Subaru has teamed up with Blackburn Center to make this unique event a success by becoming a major sponsor. The Walk provides Blackburn Center with much-needed funding to continue the services victims of violence count on, and to expand our community engagement in strategies to end gender-based violence. Blackburn Center provides a hotline that answers 24 hours a day, 365 days a year, supportive counseling and therapy, a shelter for victims of domestic violence and their children, support during legal and medical proceedings, and more. Having the endorsement of Sendell Subaru – through financial support and hands- on work the day of the event – showcases their commitment to Westmoreland County and the efforts of Blackburn Center. The Sendell team understands the importance of our services in the community, and they are dedicated to work with us to end violence and abuse.
---
Sendell Subaru supports the March for Parks - Lauren J
Westmoreland County Parks and Recreation Citizens Advisory Board appreciates the support of Sendell Subaru during the annual March for Parks. They have been a long-time sponsor of this fun event which raises funds for park improvements and completion of the trail system throughout the county. March for Parks was organized in 2003 by the Westmoreland County Parks and Recreation Citizens Advisory Board. The march has raised over $1,200,000 for these special projects. Sendell Subaru and their team have been active participants in helping to achieve our goal of making our parks and trails a great, safe destination for our residents and visitors. Sendell Subaru was recognized in our 2019 Green Luncheon and our 2020 "virtual luncheon" for their generous contributions to March for Parks.
---
SENDELL SUBARU PARTNERS FOR COVID-19 FOOD DRIVE - 321Blink 3
At Sendell Subaru in Greensburg, "It All Starts with the Heart." Nowhere was the dealership's spirit of generosity and caring more evident than this spring when employees and ownership supported a monumentally successful COVID-19 food drive for local families in need.In partnership with the media company Entercom-Pittsburgh and regional grocery store chain Giant Eagle, Sendell Subaru served as a major sponsor for the "Feed the Need Radiothon," that raised funds to provide more than 1.65 million meals for people suffering economic hardships.. The "Feed the Need" fundraiser, which benefitted the Greater Pittsburgh Community Food Bank, was broadcast live on several Entercom stations on Tuesday, April 14 when listeners were encouraged to donate online and via phone call or text message. "It's days like today that make you so proud to be a Pittsburgher," said Michael Spacciapolli, Senior Vice President and Market Manager, Entercom Pittsburgh. According to reports from the Greater Pittsburgh Community Food Bank, the need for help has never been greater with so many families and workers being displaced from employment by the pandemic. In fact, the Food Bank experienced a five and half fold increase in the number of people coming to the warehouse for support earlier this spring. "Supporting community members in times of great need through initiatives like this is very much aligned with the Subaru brand and totally consistent with the culture and mindset of the employees, ownership, and customers here at Sendell Subaru," says Christine Mohler-King, Owner/General Manager of Sendell Subaru in Greensburg. "It was our pleasure to be able to do what we could to help make a difference."
---